The Way to a Friend's House...
I bet you're dying to read about our next set of adventures. But it's been pretty calm around here. Well, calm after Pam almost peed herself when she saw a bear. Ya gotta go read my account of that episode over
here
. You'll pee yourself reading it.
After that excitement, life has calmed down. Well, there was the time I was sitting in the hot tub yesterday morning (Yep, twice a day whether I need it or not.) and Brock (aka, Doofus Boy) got loose and was chasing some unsuspecting golden retriever. I flew out of that hot tub like lightning to catch Brock because it would not look good on our record if we lost the dog(s). Luckily, he came when I called and I got him in, but that meant where in the hell was Taylor. Pam went to the neighbor's to look because Leesa said that's where Taylor goes. I can't imagine why. She's got cable and internet. No Taylor at the neighbor's, but he was on the porch when Pam got back and wasn't talking. Whew. Shhhhh, Don't tell Leesa we almost lost the damn dogs.
So it's Diet Coke in the morning in the hot tub and wine in the evening. Many friends have suggested that I use this time for reflection, introspection, and prayer. But I say a glass of wine in a hot tub in the mountains of Montana is sorta like meeting Jesus. So we've talked. We went to Thompson Falls yesterday to check out the town and had lunch at some cafe that had an elk on the front. We had hamburgers, but they could have been elkburgers. I didn't ask. I'm sure two redhead strangers (notice, I didn't say strange redheads) were the talk of the town. We stopped at the gas station for gas and a pee break, and Pam couldn't find me cuz she was already back in the truck and I was waiting for her. You know what that does to my abandonment issues. But we soon caught up with each other and came on back to the homestead.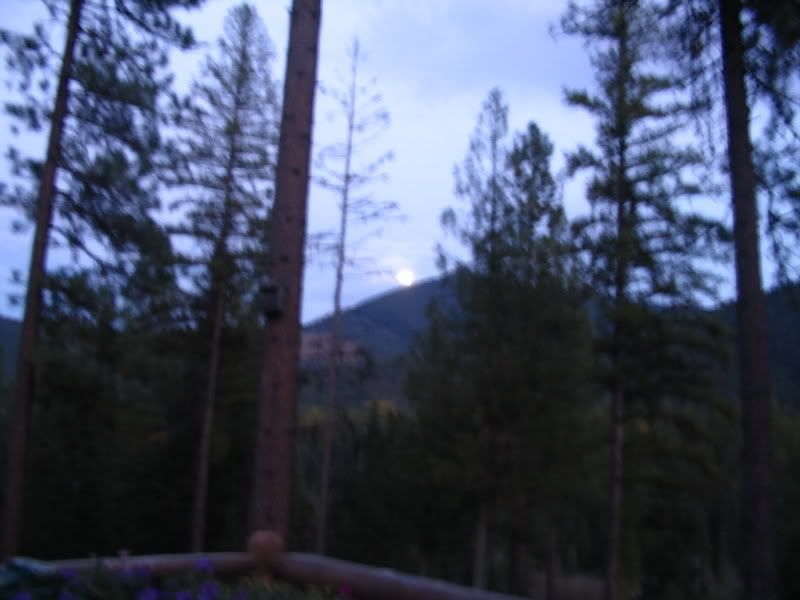 We watched the moon rise in the mountains last night. And I watched the haze obliterate the mountains this morning. Never thought the sun would come out, but it did, and it's another glorious day on Walton's Mountain. Woops, wrong mountain. The neighbor came by on his horse and was carrying a sidearm. He is going to show Pam how to use the ATV, but I'm staying right here, close to home. I don't go out with people wearing sidearms, but it doesn't seem to bother Pam. She's been in the Army, and she's seen a bear. She's not scared of too much.
The sun finally came out so we went up to Kootenai Falls to explore. I swear to God... if I had come up here rather than take lecture notes during geology, I would have gotten a better grade. (Yep, I got a D in that class. All Missouri has is friggin' limestone.) It was indescribable. Breath taking. Photos tomorrow.